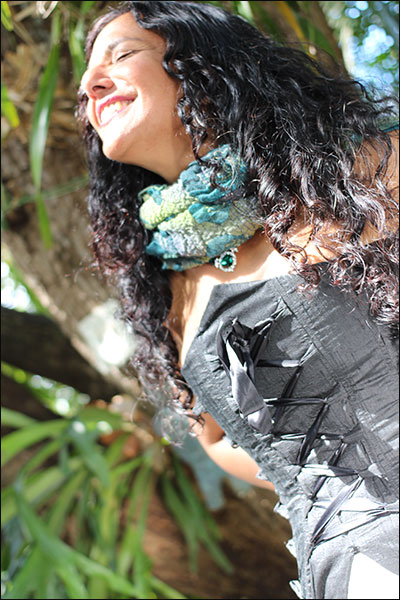 Born in England in a London suburb, Sarah grew up surrounded by the popular sounds of the 70's. However, she didn't explore songwriting until she was 21 years of age, traveling in Israel and Europe with young anti-establishment beatnik post-hippies.
Greatly influenced by her new simple, nature loving life accented by the music of Neil Young, Cat Stevens, Pink Floyd, Joni Mitchell and Jimi Hendrix, Sarah became a huge advocate for the non-technological lifestyle and lived in obscure happiness like this for a year and a half until she eventually returned home. However, this period of time was incredibly defining and influential on Sarah's songwriting, which she has pursued to greater or lesser degrees, ever since.
After moving to Miami in 1993, Sarah stumbled upon Linda Lou's "Cactus Cantina" where Jon Solas was hosting the Open Mic. It became Sarah's local watering hole and it is here where she was exposed to many of Miami's incredibly talented musicians, including Diane Ward who plays percussion on the latest album. Soon, Sarah started playing with various performers at Washington Square, the Grind (North Miami) and the Luna Star Café, where the Trio now performs regularly. Sarah has pressed three albums – Damask (featuring keyboardist Max Farber) Water (experimental album featuring Bavie Grafals on violin) and most recently Somewhere Between Fact & Fiction (featuring the Sarah Jacob Trio and special guests Diane Ward, Jack Shawde and Matthew Sabatella). Sarah's song Water (from the Water album) was featured on the indie documentary, Knowland's Park (Director, David Millett).
Over the years, Sarah has been a regular guest on NPR's Folk and Acoustic Music show, hosted by Michael Stock. The Sarah Jacob Trio regularly plays at art gallery openings. Sarah has also co-organized and performed at numerous benefit concerts including No More Tears (to counter domestic violence), the FIU Earth Day Benefit Concert and the Homeless Trust Benefit Concert. The Sarah Jacob Trio performed at the Lumpy Sue Festival for the Habitat for Humanity in 2013 and 2014.
READ MORE ABOUT:  Darrell Arnold  |  Fred Napolitano